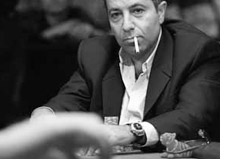 Bring out the Sammy Farha in you! Well it's not that easy, he is a world class player who has played poker far longer and better than I have. What I have the most respect for is that he can play this style of poker so masterfully, as seen on High Stakes Poker.
Now I have to be completely honest with my audience. I do not know how to play Loose Aggressive very well. I am still learning, and I plan on using my blog, practice and my friends at poker-strategy.org to help me develop the skills necessary. I did however recently have a chance to play some loose aggressive poker and did alright even though I lost a bit of money. Mostly from unlucky cards, but I got into my opponents heads and made them make bad calls.
Here is my current strategy for playing Loose Aggressive. Come into a table and play tight ABC poker for 25-50 hands, so you can build a tight image and so you can garner some information from your competition, point out the tight wads, and the loosey goosey types.
Then you start to step up the raising. Every time you aren't in the blinds and it's limped or folded to you, put in a 4 times big blind raise. If you are in the blinds with a premium hand, raise it up. If you are in the small blind with an opportunity to steal the big blind, make a bet. You will find yourself betting about 40-50% of the time. You will steal a lot of pots, and probably enrage a few opponents who want to mix it up with you.
This is where the information is useful, if a player is still playing tight and fights back, he's probably got a good hand. If it's a player who is fed up with you and calls every bet you make, then slow down after the flop if you hit nothing, but speed up if you have a premium hand. You will be paid off by these tilters with you big hands.
This brings me to my hand example. I had this opponent on tilt, he would call me with anything and I spiked a premium hand.
---------------------------------------------
PokerStars No-Limit Hold'em, $0.25 BB (8 handed)
CO ($38)
Button ($22.50)
SB ($13.20)
BB ($4.45)
UTG ($33.40)
UTG+1 ($3.25)
MPA ($12.45)
MP2 ($28.20)
Preflop:
Hero is MP1 with Qd, Qs.
2 folds
,
MPA raises to $1
, MP2 calls $1,
2 folds
, SB calls $0.90,
1 fold
.
Flop:
($3.25) 5d, 3h, 8d
(3 players)
SB checks,
MPA bets $2
,
MP2 raises to $4
, SB folds,
MPA raises to $11.45
, MP2 calls $7.45.
Turn:
($26.15) 8h
(2 players)
River:
($26.15) Js
(2 players)
Final Pot:
$26.15
Hero has Qd Qs (two pair, queens and eights).
MP2 has Ah 8c (three of a kind, eights).
Outcome: MP2 wins $26.15.



---------------------------------------------


I got unlucky, had him drawing to 5 outs, and he hit it. At least I had my entire stack in with the best of it, and I made a very profitable play. You can't win them all unless you only play the nuts. I shook it off as a learning experience.

Please please if you have any comments, suggestions, experiences with playing Loose Aggressive, shoot me a comment or go to my post on poker-strategy and post your comments on the hand there. I am determined to become a Farha Jr. as I believe in the current landscape of tight wads on internet poker that this is the most profitable way to play Texas hold em right now if played well.